Animinneapolis 2018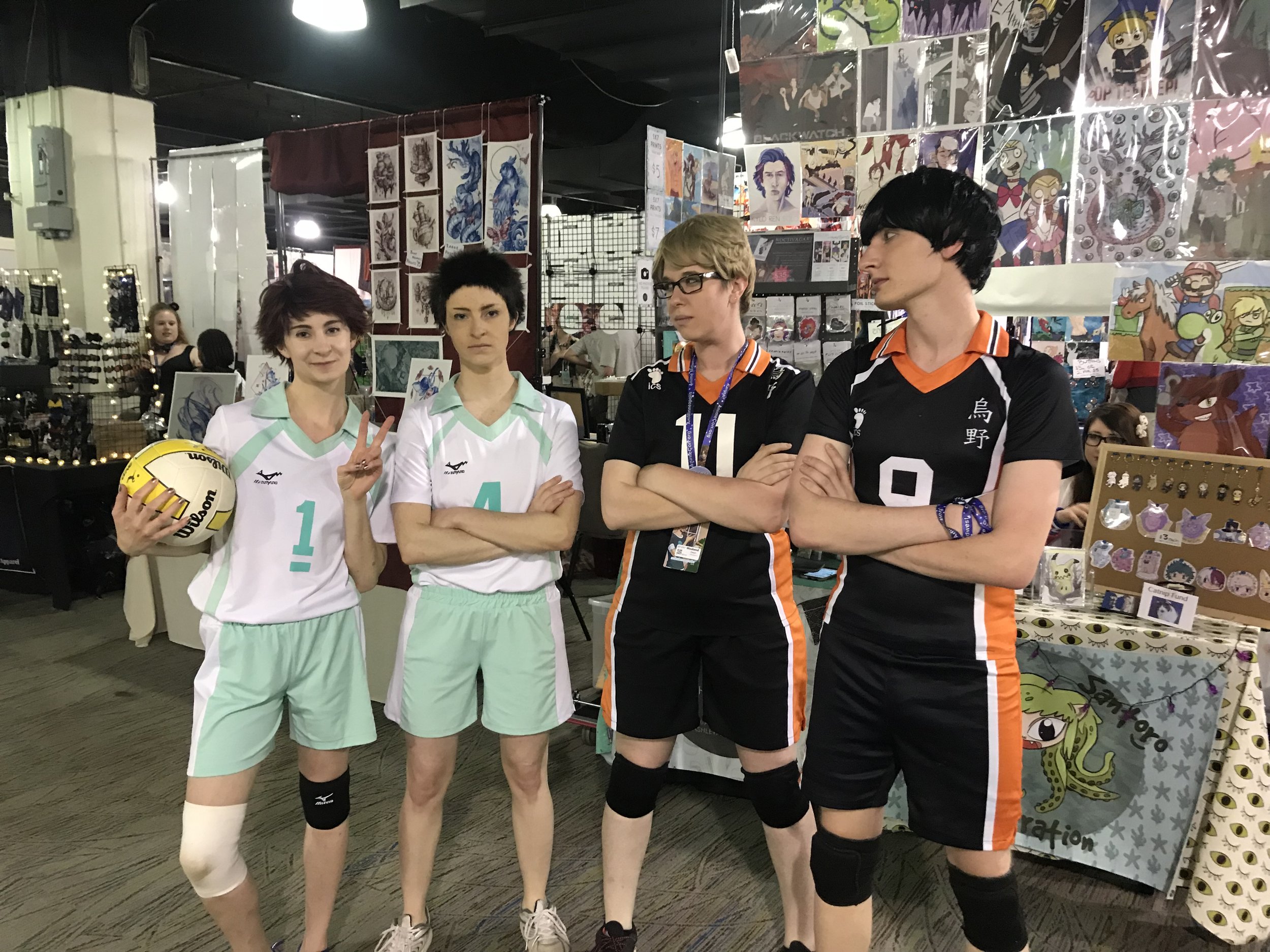 Merchandise. While Animinneapolis is considered a small con, it's merchandise room is comparable to that of a larger con in terms of item variety. I'm especially pleased to see that Animinneapolis has acquired a vendor that sells cosplay. One of my main complaints associated with conventions in Minneapolis is that they seldom have vendors that sell cosplay (sure, there are lolita and other clothing vendors, but never cosplay). This is particularly relevant because often newcomers to the convention community may be shy about cosplaying at first, but as the weekend goes on feel like they want to participate in it. Having this vendor gives them that opportunity. An excellent addition. That said, I'd love to see Animinneapolis continue to grow and achieve an even more impressive merchandise room.

Artist Alley. Maybe it's Minnesota modesty, but I'm starting to feel like Minnesotan artists don't want to sell at conventions. I hypothesize a lack of confidence or perhaps disinterest. The artist alley is almost always lacking in Minneapolis cons. There's always a fair amount of great artwork, but overall the alley is small and lackluster. I'd love to see Animinneapolis (and the other Minnesota cons) find a way to incentivize more artists to apply.

Guests. Good 'ol Greg Ayres returned to the cities for more shenanigans, DJing, and consistently humorous & inspiring chats with attendees. While I feel like I've seen his face at conventions a lot in the last year, it's always a pleasure. This weekend's Show-stealer award goes to Kohei and TiA for an amazing performance, particularly on the Sunday Afternoon of Animinneapolis. They were excellent at keeping the dwindling attendee crowd amped up and ready for more. The performance was super fun, and I can't help but wish they had been the intermission act for the Cosplay competition, for the crowd they deserved and the crowd they got were two very different things.

Organization & Venue. I stand by my previous commentary that the Hyatt Regency in Downtown Minneapolis is not the greatest venue for a convention. When attendees have to navigate more than a few floors to find what they need, and narrow hallways prevent adequate signage, conventions seldom receive good marks for organization. Registration wasn't painfully difficult to find at least, and it went incredibly smoothly for attendees (as was getting my badge in Con-ops). The line for major events like the dance wasn't managed as uniformly as one would hope, however the staffers worked very hard to make sure that everyone in line was content, and their cheery attitudes seemed to numb the frustration of attendees toward the back of the glob-like line (especially when the cosplay contest was delayed).

Panels. Animmineapolis had a great variety of panels this year. While the con isn't massive, there was almost always at least one panel happening that one would want to attend. Unfortunately, many of the panels were recycled from previous cons in the Twin Cities area, so returning con-goer from the last year may have found the selection a little dry if they didn't feel like sitting through the same things. Alternatively, there were a few panels hosted by new groups that sought to achieve the same success of similar panels in the past. Many of them were wildly unprepared to entertain fellow attendees. It's difficult for a convention to screen for how entertaining a panel will be when someone submits it, however I think it may be worthwhile for Animinneapolis to enforce an age minimum for panel hosting.

For example, a group of young teens may have the ideas but not the organizational skills to implement a successful panel, but if they had at least one person maybe 17 or older, it could have been more thoroughly planned and brought to fruition. Something to consider, knowing that age doesn't ALWAYS mean better panel quality.

The con as a whole. Overall it was an excellent, and surprisingly crowded weekend. I found all the events I attended at the con to be fun in some way, however I think with the attendance recovery seen this year, Animinneapolis has ample opportunity for growth and improvement in years to come. For those of you who are local cosplayers that may have put Animinneapolis on hold for one reason or another, I think next year may be the time for you to return.
- Lynn Dean